Paper Hand Towels vs. Cloths
Posted on September 25, 2018.
Businesses will always require the likes of restrooms and kitchens, and as a result, they will always need something suitable for employees to dry their hands with. Paper hand towels and cloths are the two main options, but which one would be best for a business to use in their office, and within their premises as a whole? Here, we will identify the main differences between the two, which will hopefully then help you to make a decision.
Let's start with their materials. Paper hand towels are, by their very nature, made from very thin paper, meaning that it could take a number of towels for you to dry your hands. That being said, you will be able to clearly see where the towels are wet, making it slightly easier to see if your hands are clean, and the towels are then always disposed of. In the case of cloths, as they are made of cotton or polyester in many cases and come in sorts of colours, it could be a little trickier for you to see if your hands are clean (since you may not be able to see the wet stains on them), and they will need to be washed after frequent use in order to serve their purpose (if the cloth isn't clean, how could it make your hands clean?). On the upside, though, you will only need one cloth to dry your hands, and you can retain your cloth for regular use, potentially for many years, making this a more cost-effective option.
Now we'll look at other key differences. Paper hand towels need to be bought in batches, so while cloths may cost more as an initial purchase, in the long run you will likely be paying more for paper towels. Paper towels are also not environmentally-friendly, so if you wish to be greener, then a cloth is the much better option. That being said, paper towels are more hygienic as they absorb bacterial substances, and as you know that you will be disposing of them quickly, there is no lasting effect. In the case of a cloth, though, using it for tougher stains could ruin the material and potentially cause not only a bad smell in the office, but also pass on germs and look very healthy from a visual standpoint.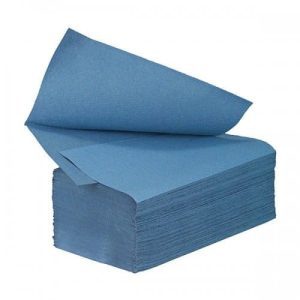 And it also comes down to what you are familiar with, and what your surroundings are. If you're a one-person operation, and your supplies are at a minimum, then paper towels may be best because any stains or spillages will be very basic; you may not even have a kitchen, choosing to instead bring in food via delivery. If you have a larger team, though, and your office does have a full-on kitchen area, then a cloth may be more suitable but you also have to keep hygiene at the front hence why I would suggest considering centrefeed rolls. In terms of familiarity, it's not exactly a major learning curve to get accustomed to a new way of cleaning and drying your hands, but if you've always worked in an office that relied on cloths, chances are that you'll want to keep this trend going. Unless you decide to change course based on benefits or even downsides that you weren't previously aware of, it's unlikely that you'll deviate from tradition for the sake of it.
So, there are clear differences between paper hand towels and cloths, each have their pros and cons, and hopefully we have provided sufficient facts here to make it an easier decision for you to make. You can check out our own supplies of both paper hand towels and cloths on our shop page
---