How to Choose the Best Toilet Roll
Posted on August 15, 2019.
Loo paper is anything but a 'bog standard' product! There are so many toilet roll options to choose from that it's not as easy a decision as you might have hoped. We also sell a wide range of products to meet the needs of any home or business customers. 
If you are buying for the home, you may decide to head to the more luxury end of the market, while high traffic business use may try and balance value for money with a quality product.
How to choose the best toilet roll or paper

Whether it be a stroll down the supermarket aisles, or the trips to the office loo, hospital or school, it is easy to see that the toilet roll market is saturated with options. Particularly if you shop online, you might need a bit more information to help you decide what to choose for your needs, and that is where we can help. 
Some variables to consider when buying toilet rolls:
Colour – there are a range of coloured toilet rolls available, primarily on the more luxury papers, including peach and pink, alongside the standard white. Nicky do Elite Toilet rolls in peach and pink, to add a touch of colour to your bathroom.
Quilting/pattern – quilted and embossed toilet paper can increase its softness by trapping air pockets between the layers and also patterned paper increased its absorbency. 
Ply – most toilet papers are either 2-ply or 3-ply. Ply means layers of paper sandwiched together to make one single sheet. More layers means a thicker and more absorbent sheet. 
Fragranced/lotion enriched – usually a component in the luxury market, some toilet rolls are enriched with lotions such as aloe vera, or fragranced. Products enriched with lotions tend to be softer. Have a look at Freedom Inspirations 3-ply Aloe Vera or Nicky Elite for these options.
Sheets per roll – particularly in high traffic areas like schools or offices, you are likely to want a roll that doesn't require changing too frequently. Our Desna Eco offers 320 sheet sper roll and is our longest conventional toilet roll by far.

Can be used on a dispenser? –  If you are in a setting other than home, consider whether a dispenser system would be better for you. We have a variety of different toilet roll dispensers and brands to suit all budgets and requirements. Take a look at our Bay West/North shore toilet rolls and toilet roll dispensers available Free on Loan. 
Bay West by North Shore have attained the Eco-label for their washroom products. The EcoSoft rolls are made from 100% recycled paper in blue, white and natural colours. The paper matches softness, strength and absorbency with their eco credentials. 
We don't just have dispensers for jumbo toilet rolls though, household toilet rolls can also fit onto a dispenser if you are looking to supply a luxury product in the washroom. 
Recycled paper?
Not all toilet rolls are made from recycled paper. If that is a green credential you are looking at for the household toilet rolls, try our Desna Eco 320 sheet 2-ply white toilet tissue.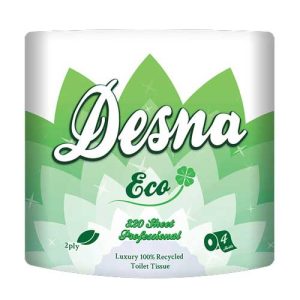 For recycled tissue products for toilet roll dispensers, there is plenty of choice. Have a look at the  Desna Mini Jumbo toilet rolls, these are recycled paper as standard. 
Buying toilet roll in bulk
We sell toilet rolls in all shapes and sizes, and in bulk quantities. Buying in bulk doesn't just have to be a cost saving exercise for businesses, we sell household toilet rolls in packs as small as 24 rolls, but can as easily sell the same rolls in a parcel of 6, or a pallet of 108! We recently blogged about why buying in bulk helps save your business money, and buying toilet rolls in this fashion is no exception. 
Here at Loorolls, we pride ourselves to being a leading stockist of disposable paper products and toilet supplies. You can open a trade account online to enjoy bulk discounts or call us on 0151 342 2111 for bigger discount on your first order.
---