Keeping Office carpets in Tip Top Condition: Carpet Cleaning Secrets
Posted on October 9, 2019.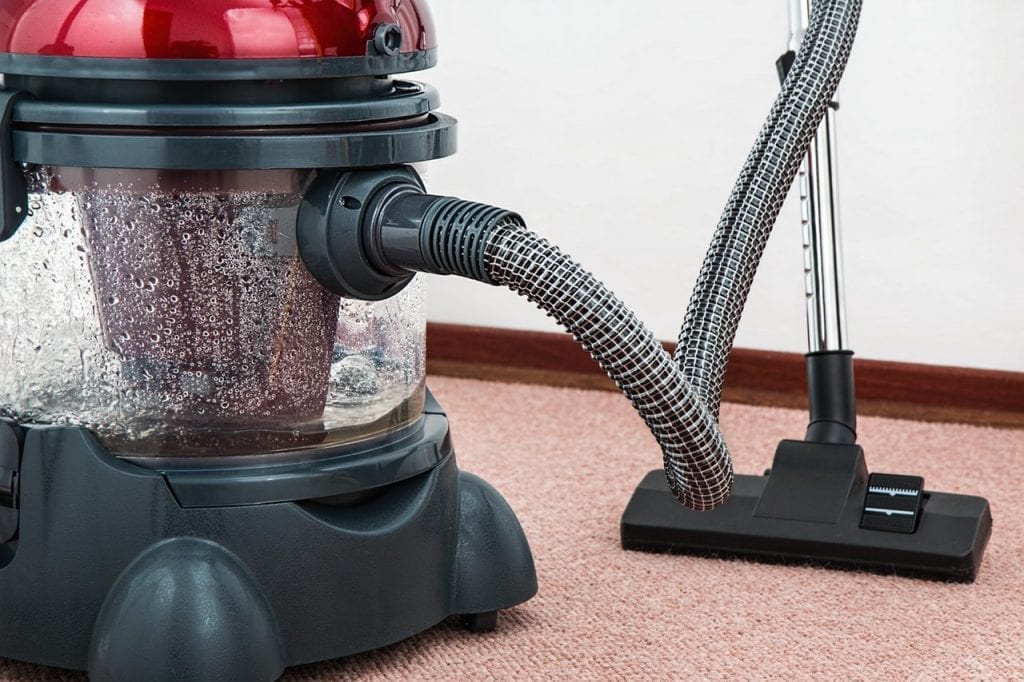 Carpet Cleaning Secrets
As we move into winter and the onset of wetter, colder weather, any carpeted areas in a workplace are set to take a bit of a beating. We're thinking schools with a brigade of muddy footed infants, and many offices and shops too, not forgetting a good cosy pub! These are often high traffic areas, not just by feet but possibly items like pushchairs and office equipment too.
And whilst it may not seem like the best idea to carpet large swathes of a heavily trampled workplace, carpets have their merit! They provide warmth and comfort underfoot which in winter can be a welcome bonus. The carpets used in professional spaces are made with this type of usage in mind, and therefore clearly more durable than those we use in the home, but it doesn't mean they don't require the same amount of TLC.
So how do we keep carpets looking their best? We've researched a few top tips from general carpet maintenance to removing spills, stains and odours to keep your workplace looking its best.
General Carpet Care
Aside from having your carpets professionally cleaned from time to time, here are a few tips for general maintenance:
Regular vacuuming – it may seem obvious but vacuuming removes dust and dirt which makes its way into the carpet pile. In a heavy traffic area such as a school, carpets are going to need vacuuming daily with heavy duty vacuums .
Provide mats at doorways – yet again a simple but effective way to protect your carpets from dirty, wet shoes, is providing good quality mats which themselves are in good condition. If carpets are going to be walked on then mats are essential in the battle to keep them clean! Inside, you could think about providing carpet runners or rugs in really heavy use areas like just inside the doorway, therefore helping to remove even more dirt and moisture.
Try and prevent spills – by having designated areas for eating and drinking, which may have a different floor covering like laminate or tiles. If this isn't possible, consider covering the carpet with a rug.
Don't drag heavy furniture and equipment across a carpet – This could cause tears and possibly damage the underlay.
Dealing with spills on carpets
Deal with spills quickly. First thing's first though;
Don't rub the carpet or get it too wet. Rubbing can damage the carpet pile and overwetting carpets can lead to build up of mould and bad odours.
If the spill is a liquid, firstly use a paper towel or white cloth to blot up the excess, working from the outside in. What you use to clean up the stain will depend upon the type of stain.
Polypropylene carpets are safe with bleach based carpet cleaners, whereas others are not. Check what type of carpet is laid before investing in cleaning equipment.
A stain such as coffee or tea may be effectively removed by adding vinegar to the detergent solution, or even a vinegar:water mix may do the job. Apply any stain removers to cloths rather than directly to the carpet, to avoid over wetting.
A general purpose stain remover  is useful for a range of stains on colourfast carpets, and something like this would be useful for keeping in the workplace for anybody to use.
Removing odours from carpets
A well known home remedy for removing all manner of odours is baking soda. It really is an effective way of neutralising bad smells, and is safe to the carpet and us too. Literally sprinkle the powder on the stain and use a brush to work it deeper into the pile if necessary. It is best left overnight or longer, so possibly a job for the end of the day or over the weekend, but if people need to use the area, lay something over the top while it works.
When it has done its job, sweep off the top layer then vacuum the rest. If baking soda does not work, an equal mix of white vinegar:water may help. Spray or blot the affected area and allow to work for 15 minutes before blotting away and rinsing with water.
Really deep seated odours may not be removed with conventional home style remedies.
Carpets may need a deep clean and perfumed shampoo to really work their magic.
We hope these tips and carpet cleaning secrets were helpful or will be in the future.
Here at Loorolls, we pride ourselves to being a leading stockist of janitorial & cleaning products, feel free to browse our range of products online or call us on 0151 342 2111 to create a trade account and enjoy bulk discounts.
---